Maine Postal History
The text of this page was last updated 26 October 2023; some of the content of the postal history site was last updated 1 October 2023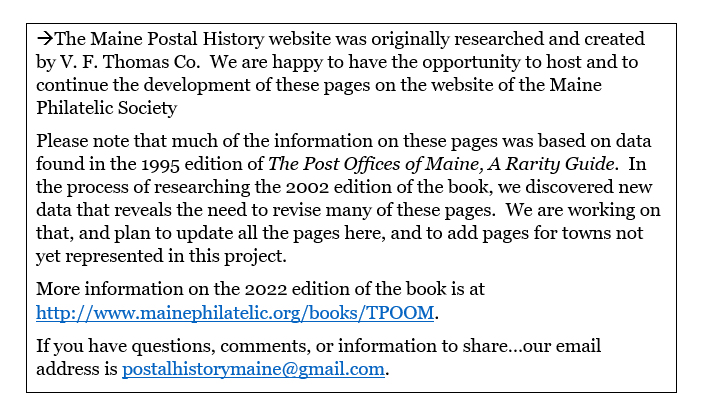 Welcome to the Maine Postal History website.
The goal of this website is to provide information about the postal history of the State of Maine and its towns and cities from the beginning of the "Statehood Period" (1820 March 15) to date. On these pages we hope to include images of the earliest and latest postmarks of each given style found from each town that has or had a post office, images of post offices, images of postal routes, and the history of each post office. A possible future goal is to include Railway Post Offices (RPO's) and Steamship mail.
Please note that this project is still in a transition stage from the V. F. Thomas website to the websites of the Waterville Stamp Club and the Maine Philatelic Society.
Some pages here might continue to show the old contact information, but V. F. Thomas asks that you use the new contact information instead: postalhistorymaine@gmail.com. We will be trying to update that information on each page, as well as uploading much new information.
Please note also that some links are broken, due to circumstances beyond our control...we are working on fixing those.
How to contribute to this website: Scanned images of Maine's covers/postmarks, post offices, postal route maps, and anything else related to Maine's postal history are welcome. You can e-mail them to us at the addess shown above. Due to the backlog of unprocessed material we have on hand, we urge you to get in touch before sending material right now. And, of course, please report all errors. Here is an opportunity for people all around Maine (and beyond) to share their special interests in Maine's postal history. Your comments and suggestions are encouraged. Thank you for your help.
A little work by each of us will save a lot of work for all of us.
---
Below is an alphabetical list of Maine's sixteen counties. Click on any county and you will be taken to an alphabetical list of the minor civil divisions in that county. (Alternatively, you can scroll down the page to that list of all minor civil divisions.) When some postal history is known for a particular city, town, township, or plantation, that civil division's name is linked to a web page that presents that history.
ANDROSCOGGIN COUNTY
All pages for Androscoggin County have been updated in March 2023
AROOSTOOK COUNTY
(places in gray font = no known past or present post offices)
CUMBERLAND COUNTY
(places in gray font = no known past or present post offices)
FRANKLIN COUNTY
(places in gray font = no known past or present post offices)
HANCOCK COUNTY
(places in gray font = no known past or present post offices)
KENNEBEC COUNTY
(places in gray font = no known past or present post offices)
KNOX COUNTY
LINCOLN COUNTY
(places in gray font = no known past or present post offices)
OXFORD COUNTY
(places in gray font = no known past or present post offices)
PENOBSCOT COUNTY
(places in gray font = no known past or present post offices)
PISCATAQUIS COUNTY
(places in gray font = no known past or present post offices)
SAGADAHOC COUNTY
(places in gray font = no known past or present post offices)
SOMERSET COUNTY
(places in gray font = no known past or present post offices)
Alder Brook Township
Anson
Appleton Township
Athens
Attean Township
Bald Mountain Township T2 R3
Bald Mountain Township T4 R3
Big Six Township (T6 R19 WELS)
Big Ten Township (T10 R17 WELS)
Big W Township
Bigelow Township
Bingham
Blake Gore (T5 R4 NBKP)
Bowtown Township
Bradstreet Township
Brassua Township
Brighton Plantation
Cambridge
Canaan
Caratunk
Carrying Place Town Township
Carrying Place Township
Chase Stream Township
Comstock Township (T4 R18 NBKP)
Concord Township
Cornville
Dead River Township
Dennistown Plantation
Detroit
Dole Brook Township (T3 R5 NBKP)

East Moxie Township
Elm Stream Township (T4 R16 WELS)
Embden
Fairfield
Flagstaff
Forsyth Township
Hammond Township (T3 R4 NBKP)
Harmony
Hartland
Highland Plantation
Hobbstown Township
Holeb Township
Indian Stream Township
Jackman
Johnson Mountain Township
King and Bartlett Township
Lexington Township
Little W Township
Long Pond Township
Lower Enchanted Township
Madison
Mayfield Township
Mercer
Misery Gore Township
Misery Township
Moose River
Moscow
Moxie Gore
New Portland
Norridgewock

Palmyra
Parlin Pond Township
Pierce Pond Township
Pittsfield
Pittston Academy Grant (T2 R4 NBKP)
Pleasant Ridge Plantation
Plymouth Township (T1 R4 NBKP)
Prentiss Township (T4 R4 NBKP)
Ripley
Rockwood Strip T1 R1 NBKP
Rockwood Strip T2 R1 NBKP
Russell Pond Township (T5 R16 WELS)
Saint Albans
Saint John Township (T6 R16 WELS)
Sandbar Tract Township
Sandwich Academy Grant Township
Sandy Bay Township (T5 R3 NBKP)
Sapling Township
Seboomook Township
Skowhegan
Smithfield
Soldiertown Township T2 R3 NBKP
Solon
Squaretown Township
Starks
T3 R4 BKP WKR
T3 R5 BKP WKR
T4 R5 NBKP

T4 R17 WELS
T5 R6 BKP WKR
T5 R7 BKP WKR
T5 R17 WELS
T5 R18 WELS
T5 R19 WELS
T5 R20 WELS
T6 R17 WELS
T6 R18 WELS
T7 R16 WELS
T7 R17 WELS
T7 R18 WELS
T7 R19 WELS
T8 R16 WELS
T8 R17 WELS
T8 R18 WELS
T8 R19 WELS
T9 R16 WELS
T9 R17 WELS
T9 R18 WELS
T10 R16 WELS
Taunton & Raynham Academy Grant
The Forks Plantation
Thorndike Township
Tomhegan Township
Upper Enchanted Township
West Forks Plantation
West Middlesex Canal Grant

WALDO COUNTY
WASHINGTON COUNTY
(places in gray font = no known past or present post offices)
YORK COUNTY
(places in gray font = no known past or present post offices)